College Update
Membership Meeting
The College's first Membership Meeting was held on May 11, 2019, at the Mayfield Dinner Theatre in Edmonton. There were 33 registrations through Zoom and over 350 members attending in person.
The Council and Registrar & CEO of the College presented on the activities of the College. These activities included the activities of Council's Governance Workgroup, the Finance and Audit Workgroup, Financial Statements of the College and the Annual Report. The College also communicated the changes to the College bylaws, registration processes and the public register, which ensures compliance with the new legislation, Bill 21.
Council and the Registrar & CEO answered various questions from members. The College's Membership Meeting was adjourned at 8:40 a.m. while the online webinar closed at 9:20 a.m. to allow online attendees an opportunity to submit additional questions.
The College sent out a membership meeting survey from May 14, 2019 – May 27, 2019. It identified that over 70% of the members that attended the meeting stated that the Membership Meeting was more successful than past Annual General Meetings.
Decision-Making Tool for Members
The College plans to release a 'Decision-Making Tool' designed to assist members in determining appropriate and safe practice using the College's key foundational documents such as the Code of Ethics and Standards of Practice. The College expects that this Tool will enable members to increase their knowledge, judgement and skill in their practice of the profession, and increased professionalism. The College expects to release the decision-making tool this summer.
Bill 11, Fair Registration Practices Act
On June 19, 2019, the government of Alberta introduced Bill 11, Fair Registration Practices Act. The Act looks to remove barriers for internationally educated professionals in Alberta. It applies to regulated professions and designated trades.
The Act will give the Minister of Labour and Immigration the ability to issue compliance orders, request audits on how applications are processed, and reports from the College.
The Fair Registration Practices Code, included in the Bill will outline general and specific duties that constitute fair registration, including: the provision of information, timely decisions and reasons, internal review processes, assessment of qualification, training and access to records.
The Bill also establishes a Fair Registration Practices Office. This office will assist the Minister in the exercise of the Minister's powers and the performance of the Minister's duties and functions under this Act and the regulations.
The College supports the Alberta Government's commitment to registration practices that are transparent, objective, impartial and fair. Read more here.
2019 Standards of Practice
The 2019 Standards of Practice will represent the expected minimum level of performance for members and reflect delivery of safe, competent and ethical care to patients. These Standards are mandatory for all members of the College across all contexts of professional practice.
The Standards serve a variety of purposes for stakeholders, both internal and external to the professions of medical radiation technology and electroneurophysiology technology, such as:
The College uses the Standards to outline standards/expectations for evaluation of quality of professional practice and inform processes to review professional practice and conduct of regulated members.
Educators use the Standards in the design of education programs and practice assessments, in conjunction with entry-to-practice competency statements.
Managers/employers use the Standards to guide development of job descriptions/roles and performance evaluations.
Other health professionals use the Standards to learn about roles of those regulated by the College and enhance collaborative practice.
The public uses the Standards to learn about what patients can expect when receiving services.
Regulated members of the College use the Standards to provide guidance for exemplary practice and a framework for patient care; to enhance the culture of professionalism; and provide the basis for self-monitoring processes and to facilitate continued learning initiatives.
The College reviews and updates the Standards every five years and plans to release the 2019 Standards of Practice by September 1, 2019.
New Legislation
As you may be aware, the Government of Alberta has introduced changes to the Health Professions Act (HPA). This is the most significant change to the HPA since it came into force. Introduced as Bill 21 – An Act to Protect Patients, Royal Assent was given on November 19, 2018. Bill 21 speaks specifically to sexual abuse and sexual misconduct by regulated health professionals and introduces a number of new requirements for regulatory health colleges, including us at the College, and its members. Some portions of the Bill were in effect as of November 19, 2018 and some came into force on April 1, 2019.
The protection of the public is of paramount importance to the College, and it supports this legislation. The College emphasizes that the vast majority of its members treat their patients with respect and professionalism, it will work with the community in recognizing and addressing concerns around the power imbalance between health professionals and patients that this legislation addresses. A quick summary of changes that are happening at the College in response to Bill 21, which is now absorbed into the HPA are provided below –
Standards of Practice
The College has established a new Standard Area 5.0 Protection of Patients from Sexual Abuse and Sexual Misconduct that came into force as of April 1, 2019. It provides new legally enforced concepts on –
Who is considered to be a patient
When a sexual relationship between a regulated member and a former member can occur
When a person who is a spouse or in an interdependent adult relationship can also be a patient
This new Standard must be reviewed, understood and practiced within the context of the current Standards of Practice document dated July 5, 2014.
Disciplinary consequences are the cancellation of a practice permit if a member is found guilty of sexual abuse, suspension if found guilty of sexual misconduct and publication of discipline history in perpetuity for sexual abuse and sexual misconduct. The College has been working with the CAMRT and OAMRS to help ensure that their professional liability insurance provides appropriate coverage to members.
Public Register
The College maintains an online public register of its current members with a live link to its database. Information displayed by this system always shows a time stamp to ensure transparency and integrity of information. The College's public register has been updated to display information of former members for a 2-year period and in perpetuity if there are disciplinary findings.
Other Requirements
Establishing a Patient Relations Program that provides funding for treatment of victims
Ensure education for College staff, Council, Hearing Tribunals and members
Colleges to collect Criminal Record Checks from applicants and increased reporting requirements at renewal
New reporting requirement for members and employers mandating that if they have reasonable grounds to believe that the conduct of a member may constitute sexual abuse or misconduct, they must report it to the Complaints Director
Patient Relations Program
The enactment of Bill 21 has a far-reaching impact on health Colleges and their members. The Bill is available here. Please read on to understand the highlights of this new legislation.
The Bill defines sexual abuse, sexual misconduct and what is not considered sexual nature of a treatment. The new legislation ensures consistency of conduct related processes and sanctions.
The College has also created an addendum based on new requirements under the HPA as of April 1, 2019. This new Standard Area 5.0 Protection of Patients from Sexual Abuse and Sexual Misconduct came into full force as of April 1, 2019, it must be reviewed, understood and practiced as within the context of the 2014 Standards of Practice document.
The College has initiated its patient relations program. The program includes measures for preventing and addressing sexual abuse or misconduct towards patients by regulated members. These measures include educational requirements for regulated members and educational guidelines for the conduct of regulated members towards patients, which the College expects regulated members complete. Please read more here.
The College has created training for trauma informed practices for College staff, Council and Hearing Tribunal members; information for respecting the College's complaints processes; and assistance in directing individuals to appropriate resources, persons or organizations that may be able to assist them.
The College is releasing a training module for protecting patients from sexual abuse and sexual misconduct. In this module, regulated members will learn about the broad definitions of sexual abuse and sexual misconduct, guidelines for maintaining appropriate professional boundaries and mandatory reporting requirements for regulated members and employers. This module will be released this summer. Regulated members are expected to review complete this module. This module can also be applied to a regulated member's Continuing Competence Program (CCP).
The College has set aside funding for patients who may allege unprofessional conduct in the form of sexual abuse or sexual misconduct against a regulated member.
Do you see what I see?
Have you ever had a frustrating interaction with an orthopedic surgeon? Unfortunately, it has been my experience as an x-ray tech that this happens on a regular basis. Recently, I have been reflecting about this and asking why. Why is there frustration and tension between x-ray techs and orthopedic surgeons? Aren't we all on the same team? Don't we have the same goals?
One goal that we share is our concern for patient outcomes, what we often do not share is the lens with which we view our radiographs. As x-ray techs our primary goal is to please the radiologist by demonstrating the anatomy in a certain way based on long established criteria. Our images are viewed by radiologists in absence of the patient in order to diagnose specific pathologies. The two key differences when you ask yourself what an orthopedic surgeon needs from your images are first of all that they view the images with a patient sitting or standing right in front of them. They are looking to correlate the images you have taken with the appearance and concerns of a live person. Second, the orthopedic surgeon then uses the images to make a treatment plan. This is important because some subtle differences in images can radically change this plan.
For example, look at this oblique ankle: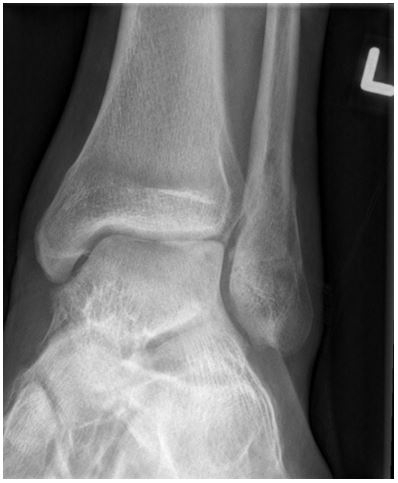 Most x-ray techs would judge this to be a good oblique ankle projection because the fibulotalar joint is open. But what does an orthopedic surgeon need from this image?
I interviewed several orthopedic surgeons and discovered that when they are looking at an oblique ankle they need to visualize all three joint relationships around the mortise and evaluate if there is any widening on the lateral aspect when compared to the medial. If there is joint space widening the patient requires surgery, if there is not the patient can be treated with a cast only. What a difference this decision makes to the patient! And how frustrating and painful for the patient if the wrong decision is made. Suddenly, it made sense to me why I had experienced orthopedic surgeons asking for repeat mortise views when I thought my original images were acceptable. We had different criteria for what made the image acceptable, and this led to frustration on both sides.
I discovered these sorts of differences over and over as I investigated different projections. It's too bad that we do not have a chance to sit down with orthopedic surgeons more often to understand their needs and their perspective on our images, our patients would thank us for this.
Here's my take away thought for you all: the next time you feel frustrated about the demands placed on you by an orthopedic surgeon, take some time to investigate why they might be making this request. The internet contains a bounty of information when you take the time to look, and one could argue that it falls under our professional responsibilities to do so. After all our ACMDTT Standards of Practice centers around the philosophy of patient centered care. We are professionals who strive to meet the needs of our patients and their families by maintaining competence and utilizing evidence based and reflective practice. We need to be people who never stop learning if it means better outcomes for our patients.
— Sherri has been an x-ray and CT technologist for the last 20 years. She recently made a move into an educational role at NAIT because she is a bit of nerd and loves to share interesting facts with other people.
In Conversation With Marlene Stodgell-O'Grady
Marlene Stodgell-O'Grady, Director, Quality Safety and Education, Alberta Health Services, retired from the profession this year.
The Registrar had the privilege of capturing Marlene's reflections on her remarkable professional journey and the profession.
On technology and change impacting practice, Marlene says 'The conundrum of these technology advancements is that they have changed everything and they have changed nothing'.
Congratulations on your retirement! Many of us are looking forward to that time in our life, and some of us who are drawing closer to that time have 'mixed' feelings about it. How are you liking retirement?
I am really enjoying retirement though it has only been just over a month. Retirement for me doesn't mean ceasing being active but the opportunity to move on to other interests that you didn't have time to pursue while you are working. There are so many ways that I can take the experiences that I had the privilege of having during my career and applying them to new interests.
Please share key milestones or your proudest moments in your career. Is there such a thing as a 'career defining moment'? If yes, then how does one recognize it?
It is hard to define one moment as there has been hundreds of moments. Each role that I have held has had its own defining moment. The moments range from the first time I held the hand of someone who was dying and providing them comfort as they took their last breath to having the opportunity to lead the implementation of a peer review program in AHS that is not only a national leader but an international leader.
What has made each moment defining for me is the recognition that this moment was why I became a health care worker. It is doing what I believe in and that is providing patients the best care that we possibly can. As an MRT, I have always felt that sense of achievement when I got those textbook images, but it was always those moments where I connected with the patient that left the lasting impression.
Please tell us about the significant changes in medical diagnostic and therapeutic technology that have occurred during your career.
During my career technology has advanced from wet processing of images and setting your mAs by setting the mA and time to fully digital imaging. It has gone from 2 CT scanners in the province to CT being basic standard of care. When I started my career, ultrasound was only beginning to be used and MRI and PET did not exist. 3D imaging and fusion imaging was only a vision in science fiction films like Star Trek. The implementation of PACS has facilitated the access to images anywhere in the province that the patient is being treated.
Please give us a sense of how these changes have impacted practice.
The conundrum of these technology advancements is that they have changed everything and they have changed nothing. We have so much more diagnostic and treatment capabilities but the goal has never changed – to help diagnosis what is wrong with the patient, assist the physician in planning the appropriate treatment and where appropriate, provide less invasive treatments for the patient.
Are there any significant future trends or game changers that stand out for you? Please share your thoughts on this.
As technology advances, we see that the fusion of images from the different modalities (e.g. PET, CT, MR, ultrasound) provides improved diagnostic and therapeutic capabilities. As the fusion of these images become more and more standard of care it will be important for the profession to adapt to the technology advancements. We will have to change our way of thinking about being imaging technologists/specialists. There will be a greater need for imaging professionals that are competent in multi-modalities. This will require that we reconsider the current modality silos that we have created and consider how we train, assess and maintain competency of technologists that will work in this environment.
What does it mean for you that the public receives safe, competent and ethical care?
For me, this is the basis for patient and family focussed care. It is partnering with the patient and respecting their personal health care choices while providing a high-quality service in a compassionate, empathetic manner. It is always striving to ensure the safety and quality go hand in hand.
Collaborative practice is essential for the delivery of patient centered healthcare. How can members embody and promote this concept in their own practice?
To work collaboratively we must first understand our scope of practice. In a multi-disciplinary environment, we need to remember that many of the skills that we use as part of our practice are also embedded in other professions as well. It is important to look at every individual situation and be aware of who is competent to perform the task at hand and who is best to perform it. We need to guard against getting into "turf" wars, instead thinking about what is best for the patient.
What are the elements of professionalism that you believe every MRT should embody?
My favorite quote (which people can attest was always posted on the wall of my office) is from Michael J. Fox, "I am careful not to confuse excellence with perfection. Excellence I can reach for; perfection is God's business." I feel that the most important element of professionalism is to strive to do high quality work at all times – striving for excellence. It is my whole-hearted belief in the importance of striving for excellence that has inspired me to focus my career in the last 15 years to Quality in healthcare.
Other elements that I believe that every MRT should embody (and they critical to striving for excellence) are:
Accountability – holding yourself accountable for your words and actions, particularly when you have made a mistake;
Competency – ensuring that you maintain your competency so that you can perform your job effectively; and
Integrity – being honest with your manager/supervisor and your patients.
What "soft skills" do you feel have been most valuable for you throughout your career?
This is a difficult question to answer as I know what I think has helped to open many opportunities throughout my career, but this could best be answered by the people who saw something in me and offered me new challenges. That being said, the soft skills that I look for in others are compassion; passion to continually learn and grow; willing to support and encourage others; and being a team player.
I strive to and I hope that I have demonstrated these soft skills during my career.
We have worked together on so many fronts related to the profession and the mandate of this College – provincial advisories, critical input on practice advice to the profession, renewals, AHS liability insurance and even some brave new pilot projects – thank you! Please know that you and your contributions to the profession will be missed.
I have felt privileged and honoured to have had the opportunity to work with the ACMDTT in so many capacities. The collaborative work between the ACMDTT and the employers of their members has only enhanced the profession. I am grateful that I have had the opportunity to be part of the collaboration.
Please share your message or advice for our membership.
Always be proud of your contribution to healthcare. We touch every patient at some point in their journey through the health care system and we can have a significant impact. Never stop learning, never stop caring and try to remember every patient is someone's mother, father, sister, brother or child.
Continuing Competence Program
Your annual practice review consists of a self-assessment, learning plan and reflective learning activities. Here is a list of learning activities the Competence Committee has deemed satisfactory with time restrictions:
Satisfactory learning activities with time restrictions
Cardiopulmonary resuscitation (CPR) time may be counted for up to four hours per CCP cycle. Any CPR hours that exceed the four hours are not considered to add to the satisfactory learning requirement.
ACMDTT courses, including the Regulation Education Module; Heightening Professional Boundaries and Occupational Health & Safety in the Health Care Environment may be counted for up to four hours each towards a CCP cycle.
College/Association newsletters, and articles contained therein, may be counted for up to no more than one hour of learning collectively, per issue, towards a CCP cycle.
College members, who complete peer-to-peer image/recording reviews, may use a maximum of four hours towards a CCP cycle.
College members, who participate in the act of clinical precepting, may use a maximum of five hours towards a CCP cycle.
Job/performance evaluations may be counted for up to no more than one hour of learning per CCP cycle.
Participation in tradeshows for the purpose of public awareness of the profession may be used for a maximum of eight hours per CCP cycle.
The My CCP tutorial may be used for a maximum of one-half hour of satisfactory learning.
N95 mask fitting may be used for a maximum of 15 minutes per CCP cycle.
The CCP cycle ends on August 31, you are required to complete the 2018/19 cycle by that time.
Artificial Intelligence and Medical Imaging
Artificial Intelligence (AI) seems to be a popular media topic these days, and with good reason. The past decade has seen a phenomenal growth in deployed AI applications, many of which are having or will soon be having profound effects on society. Three are three things driving the rapid advances in the field:
Fast, inexpensive, and plentiful computers (i.e., speed);
Lots of data (i.e., storage/memory); and
Data analysis (i.e., learning).
This is the technology triumvirate of the modern information age. It's a powerful combination, and one that is fueling the rapid progress in AI research and applications. Let's look at each one briefly:
The need for speed… Many AI computations have enormous computational requirements. Much of this comes from the need to converge to an answer – a program that runs for a day might compute a good answer, but one running for 10 days might lead to a better answer. Technology advances have enabled key applications to run 1,000,000 times faster than they could a decade ago!
Size matters… at least when it comes to data. Large data sets are important not because they illustrate the common scenarios, but because they are critical for finding the uncommon (rare) scenarios. For example, a doctor may see thousands of children that have a headache, but rarely is the cause a brain tumor. You need lots of cases to be able to see and identify the exceptions.
Fool me twice, shame on me… Fast computers can analyze large data sets and learn from them. There are many machine learning models, but most of them are adaptive in that each new data point allows the model to refine itself. In other words, the AI learns from its mistakes, and from the mistakes made by others.
The combination of the three has allowed some AI applications to become super-human. For example, computers can now out-perform humans at recognizing and identifying people's faces. And what is a face to a computer? Just a combination of learned patterns.
Computers are on the cusp of creating a revolution in medical imaging. What is a tumor on a CT scan? To a computer it is just a combination of learned patterns, a different kind of "face", if you will. Given an appropriate data set and one of sufficient breadth (size), computers can be "taught" to recognize medical conditions from an image. Geoffrey Hinton, the 2019 Turing Award winner (the Nobel Prize of computing science) said in 2017 that:
"We could build in a system that would take every missed diagnosis—a patient who developed lung cancer eventually—and feed it back to the machine. We could ask, What did you miss here? Could you refine the diagnosis? There's no such system for a human radiologist."
A recent paper in the journal of European Experimental Radiology (December, 2018) was more blunt:
"AI will surely impact radiology, and more quickly than other medical fields. It will change radiology practice more than anything since Roentgen."
These are still early days for AI applied to medical imaging, but the early results are promising, and the research effort being invested in this area is growing in leaps and bounds. Does this mean imaging experts will soon be out of a job? No. Think of the AI as a second opinion. Leave the final decision to the human, but use the AI as a tool to aid the human in coming to the best decision. Man and machine need to work symbiotically.
To prepare for the AI revolution in your field, here is advice given in the recent journal paper:
"An updated radiologist should be aware of the basic principles of [AI] systems, of the characteristic of datasets to train them, and their limitations. Radiologists do not need to know the deepest details of these systems, but they must learn the technical vocabulary used by data scientists to efficiently communicate with them. The time to work for and with AI in radiology is now."
— Jonathan is a professor in the Department of Computing Science at the University of Alberta. His research is in the area of artificial intelligence, and he is well known for using games to demonstrate his work.
A Positive Formula for Busy Times
We live in busy busy times. Our intuitive response is to see this as a problem. We use the refrain "I'm so busy," as a reason to see our work from a problem perspective.
Can we reframe that to celebrate being busy by approaching it in positive, productive ways?
When our "busyness" comes across to our patients and clients we may give a message of impatience or a hurried approach. We need to work hard to find the balance for ourselves and for our customers or clients. We need a strategic approach to support us in doing our work in a way that helps us and helps those receiving our services to feel engaged, involved and included in the process and activities required.
There are many helpful strategies. In this little article, we will explore 8 tried and true approaches to apply in the work you do.
Strategy #1: Take time to meet and greet people in meaningful ways. Look at people, smile and make a connection. The first 8 words you say are the most important words to engage and include. Pay attention to your tone. Never allow yourself to discount the importance of greetings:
Good morning – good to see you.
Hello – you're here early today.
Good afternoon – how is your day going?
Hello – happy to see you again.  
The greeting is like investing time now to save time later. The greeting shows others that we care. Get off to a good start.
Strategy #2:  Personalize the experience. The exchange of names is one of our best connecting features. Share your first names. Wear a visible name tag. When you look at the intake information, use the person's first name. Ask for help to pronounce each name correctly. Use the name as you give direction.
Personalization increases the patient or client comfort zone. Get in the habit of using names.
Could you sit over here, Diane?
Could I ask you to hold this position David?
Allison, could you repeat your birthday for me?
Marianne, will you wait for me in room 4?
Positive tone is easy to use when we personalize. It is difficult to pronounce your own name in a negative way. We say names with consideration and respect.
Strategy #3: Break the old habit of apologizing. "I'm sorry," "Unfortunately," "I apologize" and "We regret" all lead people to believe something negative will follow. Ask your clients and patients to focus on the services they will receive. It does not help to apologize for things you cannot change or things that have already happened.
Consider preparing differently for some of the situations where you might intuitively apologize:
For example:
I'm sorry you had to wait so long. We are very busy this morning.
Try instead:
Thank you for being so patient. We are working as quickly as we can to address a busy morning.
For example:
I'm sorry, you will have to make a separate appointment for that.
Try instead:
That test requires a little more time. Could we arrange a separate appointment for you?
Strategy #4: Choose vocabulary that engages clients and patients in positive expectations and anticipation. Focus on what can and will be done instead of what can't or won't be done:
For example:
You'll have to wait here until Chad is available to complete the process.
Try instead:
Chad is doing his very best to complete his scheduled tests this morning. As soon as he is available, he'll be here to conduct your test. Thank you for your understanding and patience.
For example:
These tests take a lot of time to complete. You will have to be patient.
Try instead:
We will take the time needed to complete these tests. We want to do them effectively and carefully. Thanks for understanding that.
Strategy #5: Use language that presents confidence in your processes and activities. Your confidence will build confidence in your patient or client.
For example:
Sometimes we have to do this test more than once to get accurate data. I hope not, but it may have to be done again.
Try instead:
We do everything we can to ensure that the data collected is accurate. We will even do a test more than once to ensure that your results are accurate. You can count on us to do that if necessary.
For example:
I hope we can have you on your way in 15 minutes. I can't promise.
Try instead:
We will do our best to get you on your way in 15 minutes. We will, however, take the time needed to ensure the outcomes you need.
Strategy #6: Ask instead of tell. When people are feeling vulnerable, worried or hesitant the emotions turn on. When the emotions turn on, the brain shuts off. In order to engage people positively, we need to engage their brains. The best way to get people "thinking" instead of "emoting" is to ask questions and cause them to get thinking about the answers.
Questions could involve direction or actions required. Or, they may just involve affirmation or confirmation. Asking instead of telling encourages engagement and support. It also facilitates involvement and inclusion.
Sample Questions:
 Could I ask you a few questions before we begin?
Would you repeat and spell your last name?
Can you let me know when you are ready to begin?
Have you had this test before?
Do you have any questions before we begin?
Could I ask you to give me 2 or 3 minutes before we begin?
Strategy #7: Provide your patients and clients with specific information to support their understanding of the activity or process you are about to conduct. Actual numbers, measures and specific terms help patients feel that they are aware and prepared. This builds comfort and confidence and an expectation of a positive interaction.
For example:
This test involves 4 stages. Each stage takes approximately 8 to 10 minutes to complete.
This process will take 2 ½ to 3 minutes to complete.
The results are usually ready in 20 to 30 minutes. As soon as they are ready, we can move ahead with the next test.
Could we ask you to be sure to drink the fluid within 30 minutes?
We can give you a 10 minute and a 5 minute reminder as we approach the 30 minute guideline.
We anticipate a wait time of 11 to 15 minutes. Will be ready by then.
Strategy #8: Be aware of your non-verbal communication. (The expression on your face, the posture you display, the pace or intensity of your walk, the tone of your voice.) Remember that over 70% of any message is non-verbal.
When we are busy, we often exude impatience or the "hurry" syndrome. We may think that we haven't verbalized any of this. The patient or client is watching and listening to your non-verbal messaging. What does it say?
In busy times, we need our patients and clients to hear and see that we are doing our best to provide good service. However, we have to hear it ourselves. Try these strategies to support you to stay positive and productive in busy busy times. We aren't just busy being busy, we are achieving important and engaging results.
Use these strategies to help you reframe the problem and celebrate the achievements. Being busy can be a challenge or a chore.
Let's go for the challenge. We're up for it!
— Brenda is a speaker, trainer, writer and consultant. She has been addressing groups for over twenty years on topics related to communications, humour, laughter, positive working skills and wellness in general.
Perspectives
My patient is here for their test, whose responsibility is it for informing the patient of all the risks involved?
Is this activity within a regulated member's scope of practice?
As a healthcare professional, a regulated member has to ensure that informed consent for the procedure has been obtained.
What is appropriate informed consent?
Informed consent requires a healthcare professional to explain the procedure, all the implications, and recognize that the patient has the right to accept or refuse the procedure you are about to do, and that consent is obtained free from undue influence and/or coercion. Additionally, the member has to assess the patient's level of understanding of the procedure and adapt their communication accordingly.
The Health Professions Act (HPA) was amended in November 2018 to include Bill 21 – An Act to Protect Patients. Due to this amendment, a new Standard of Practice was published on April 1, 2019. A regulated member is required to obtain informed consent when required to touch a patient for a procedure. This means direct communication with your patient, such as "May I place this pillow under your knees" and waiting for a response from the patient to go ahead.
What Standards of Practice apply to this scenario?
As a regulated member of the College, a regulated member needs to practice in compliance with legislation and other documents such as Standards of Practice and Code of Ethics. The following standards and statements apply to this scenario.
Standard 1.1 Patient-Centred Care
To demonstrate this Standard, a regulated member will:
a. Assess the patient's level of understanding of the procedure and adapt communication and assessment accordingly
c. Ensure appropriate consent for the procedure has been obtained (e.g., explain procedure and possible implications, recognize the patient's right to accept or refuse medical services, recognize a legally authorized representative/guardian, as appropriate).
Standard 2.1 Legislation, Standards and Ethics
To demonstrate this Standard, a regulated member will:
a. assume personal responsibility for the quality and effectiveness of the regulated member's practice
b. maintain and apply the knowledge, skills, judgements and behaviours necessary for competent practice
Standard 2.4 Professional Boundaries
To demonstrate this Standard, a regulated member will:
c. ensure consent is obtained prior to touching the patient
Standard 5.0 (April 2019) Protection of Patients from Sexual Abuse and Sexual Misconduct
To demonstrate this Standard, a regulated member will:
d. ensure informed consent is obtained when required to touch the patient for diagnostic and/or therapeutic procedures.
ACMDTT Code of Ethics (2015)
Principle 3 – Responsibility to Oneself
b. Accountability – A regulated member takes responsibility and is accountable for his/her professional activities.
The Workstation
Hello and welcome to a new component of the newsletter. The intent of this section is to be a platform for the sharing of information.
This information can be one of interesting topics, new ideas to educate, workplace commonalities, or other facets of patient care that can impact us all…or not.
The content is up to us…Also, to be included are some of the aspects that are on the forefront of our profession that are worthy of discussion.
The topics explored are meant to be professional, honest and kind.
Our first thought with this forum was to interview a member (grandfathered) from Diagnostic Medical Sonography.
Meet Danielle B., Lead Sonographer, SDI Imaging, Calgary.
Specialties: Generalist, Vascular, MSK
What first attracted you to Sonography?
I like to work independently, within a team structure. Sonography is a field that you are continually learning, with every patient, every day. The images I supply create a story, or snapshot of the objective the primary care physician is trying to solve.
What does your best day look like?
Challenging cases that lead you to a plausible solution to the patient's concerns and working in a team environment that supports the best outcome for the patient.
Who are the members of your Team?
The team that I am proud to be a member of include the following individuals:
Clerical staff…who keep the patients, and us informed.
Fellow Sonographers…those who support and share tips and tricks of the profession. As well as sharing the diversity of backgrounds to enhance the patient outcome.
Radiologists…Every day, every case, they support us, challenge us and even make us laugh a little.
Cleaning Staff…Without them we could never be able to provide a clean environment for our patients, and us.
Google…Without Google, how would we ever decipher some of those obscure terms?
If you could have extra time in a day, what would you do with this time?
I would schedule, perhaps once a week, an open brainstorming session with all team members.
Repetitive Strain Disorders are very common amongst sonographers, what do you do to prevent this?
At the beginning of the day I perform stretches, focussing on my back, shoulders and hips. Throughout the day I am conscious that the patients are close to me so I try not to overreach.
If you could make one suggestion to those entering this profession, what would it be?
Ask questions, lots of them. Be responsible for your education.
Thank you, Danielle, for your insight on one of the professions that will soon be regulated by the ACMDTT.
As mentioned above, this is your space. If you have any suggestions or wish to share something with fellow members, please contact the College at info@acmdtt.com.
Thanks,
May the force be with you.
Help RhPAP Support Rural Technologists
The Rural Health Professions Action Plan (RhPAP) is looking for more information on how we can support technologists in rural practice. RhPAP's aim is to support rural health professionals and Alberta's rural communities to ensure every Albertan has access to timely and reliable health-care services close to home. Although RhPAP has been around since 1991, it is only since the end of 2017 that their focus expanded from rural physicians to all rural health professionals.
RhPAP is looking to identify the challenges that technologists face in rural practice and educational, research, and other opportunities where RhPAP may be able to make a difference. This survey should not take longer than five minutes. The information collected will be kept confidential and only reported in aggregate for program and support planning purposes. RhPAP very much appreciates any reflections and feedback you are willing share.
Other Updates
Call for Volunteers
ACMDTT Awards
Job Postings
Branch Info
Annual Report
Strategic Plan 2019-2022
---