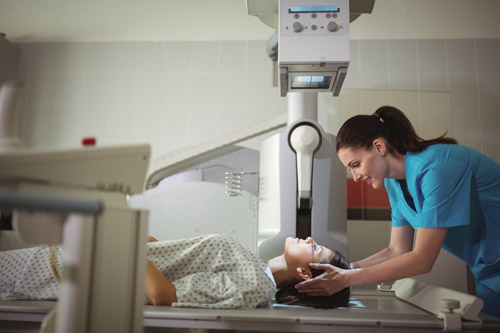 Radiological technologists use equipment that produces radiation to obtain images such as X-rays, CT scans and mammograms. These images help the physician make a diagnosis.
Radiological technologists use their excellent patient-care skills and expert knowledge of anatomy and pathology to monitor and correctly position the patient. They use their technical expertise to operate equipment properly and to ensure radiation protection methods are followed safely.
Radiological technologists are known by many as X-ray technologists. Radiological technologists produce structural images of the body for diagnostic purposes. They may be involved in a broad variety of general and specialized procedures and areas including:
Plain film radiography: X-rays of the chest, bones, joints and spine
Gastrointestinal fluoroscopy studies: Images of the gastrointestinal or GI system, the area between your throat and your rectum
Mammography: Special images of the breasts to find breast cancer at the earliest stages
Angiography: Specialized test to look at blood vessels (arteries and veins) and blood supply to the limbs and major organs
Computerized tomography (CT) scans: Tests that render cross-sectional images of parts of the body
The College has adopted the National Competency Profile (NCP) maintained by the Canadian Association of Medical Radiation Technologists (CAMRT) for the medical radiation technology specialties we regulate. Previous competency profiles for these specialties have been rescinded. The College acknowledges that the NCP reflects current practice in Alberta.