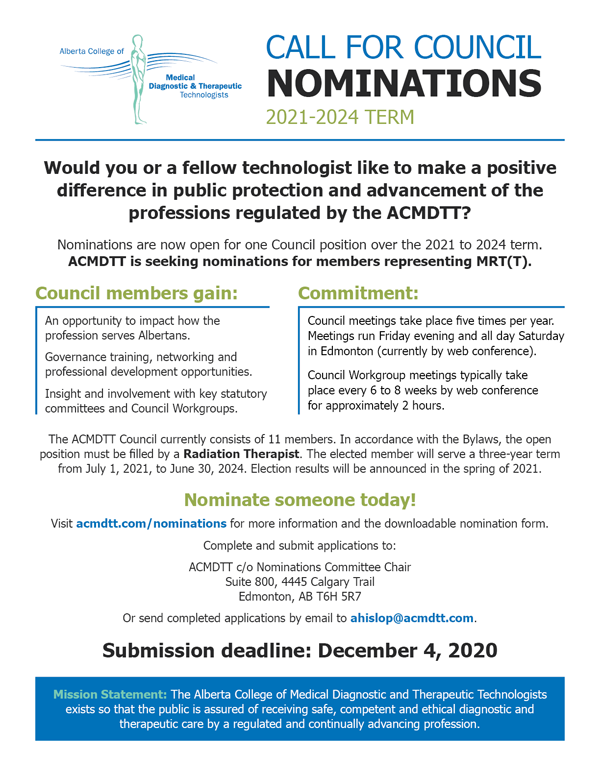 Would you or a fellow technologist like to make a positive difference in public protection and advancement of the professions regulated by the ACMDTT?
Nominations are now open for one Council position over the 2021 to 2024 term. ACMDTT is seeking nominations for members representing MRT(T).
Council members gain:
An opportunity to impact how the profession serves Albertans.
Governance training, networking and professional development opportunities.
Insight and involvement with key statutory committees and Council Workgroups.
Commitment:
For the duration of the pandemic, all meetings have been switched to web conference. When appropriate, in-person meetings will continue to be held at the College office in Edmonton.
Council meetings take place five times per year. All meetings are in Edmonton and run Friday evening and all day Saturday.
Council Workgroup meetings typically take place every 6 to 8 weeks by web conference for approximately 2 hours.
Council info:
The ACMDTT Council currently consists of 11 members.
In accordance with the Bylaws, the open position must be filled by a Radiation Therapist.
The elected member will serve a three-year term from July 1, 2021, to June 30, 2024.
Election results will be announced in the spring of 2021.
All nomination applications must be submitted with the understanding that any part may be published in the College newsletter and/or website. The Nominations Committee will interview applicants and recommend successful applicants to the Council for the purposes of moving them to elections.
Complete and submit applications to:
ACMDTT c/o Nominations Committee Chair
Suite 800, 4445 Calgary Trail
Edmonton, AB T6H 5R7
Or send completed applications by email to ahislop@acmdtt.com.
Submission deadline: December 4, 2020
---
Additional information
Meeting information
Council meetings are planned to avoid interfering with regular work hours whenever possible.
Council Workgroup meetings typically take place every 6 to 8 weeks by web conference for approximately 2 hours.

Finance and Audit Workgroup
Governance Workgroup
CEO Evaluation Workgroup

All travel, meals and accommodation expenses for attending Council meetings are covered by the College.
Each meeting includes ongoing education, mentoring and the opportunity to network with peers from other specialties within the College.
Council members receive an honorarium at the end of each Council year. No additional honorarium is given for participation on committees or with Workgroups.
Many Council members make arrangements with their employer to facilitate attendance at Council meetings.
Council member role
Set the policies and strategic directions of the College:

Purpose: Designates the results the College is to achieve, for which people, at what cost.
Executive limitations: Constraints on the CEO's authority that establish the boundaries of prudence and ethics within which all their executive activity and decisions must take place.
Governance process: How the Council conceives, carries out, and monitors its own task.
Council-CEO relationship: How power is delegated and its proper use monitored; the CEO role, authority, and accountability.

Ensure compliance with legislated requirements outlined under the Health Professions Act (HPA)
Ensure succession planning in the leadership of the organization
Be positive ambassadors for the College and speak with a unified voice once decisions have been made
Workgroup information
The Governance Workgroup assists Council in fulfilling its responsibility for maintaining high standards of governance by developing, monitoring and making recommendations to Council on guidelines, policies, procedures, bylaw changes and any other documents required by Council from time to time that are consistent with the HPA and the regulations guiding the College.
The Finance and Audit Workgroup's primary focus is on the qualitative aspects of financial reporting and existing organizational process to manage business/financial risk and to ensure compliance with all applicable legal, ethical and regulatory requirements.
The CEO Evaluation Workgroup meets to perform a formal evaluation of the CEO to be presented to the Council annually, based on the achievement of the Council's mandate and non-violation of its Executive Limitations policies.
Testimonial
My first introduction to Council was via a colleague. He spoke with such enthusiasm and commitment to the good of what the College stood for. I wanted to know where my money was going (pretty sure I'm not alone in this), so I decided to put my name forward for a Council position and find out first hand.

It didn't take me long to appreciate the "behind the scenes" work of the College. I enjoy the collaborative efforts of Council and having a voice in helping to ensure that "we" (our professions) provide quality care to our patients.

The professional connections, the regulatory education, networking with other professions under our College umbrella, and the friendships, only add to the experience around the table. Council members are treated very well.

So if you've ever wondered about the workings of our College and Council, consider nominating yourself or a friend. It's so worthwhile!

— Wendy Read, past president of the ACMDTT Council and retired radiation therapist (2017)