The position of Registrar and Chief Executive Officer for the Alberta College of Medical Diagnostic and Therapeutic Technologists (the College) is accepting applications through executive recruiters, The Vogel Group.
The Role
The Registrar is the Chief Executive Officer (CEO) of the ACMDTT and is responsible for and directs the administration of the affairs and operations of the ACMDTT in accordance with the legislation and the ACMDTT's bylaws, policies, and guidelines (each as amended or replaced from time to time). The legislation includes but is not limited to the Health Professions Act (the HPA) and the Medical Diagnostic and Therapeutic Technologists Profession Amendment Regulation (The Regulation). The policies include but are not limited to Policies set by Council, Standards of Practice and Code of Ethics.
The Candidate
The CEO & Registrar is an exceptional leader with a strategic mindset who is able to establish and maintain positive working relationships with others, both internally and externally to achieve the goals of the organization. The successful candidate is a community leader and collaborative team-player with the following core competencies:
A strong sense of commitment to College's mission and values and the ability to motivate others to undertake initiatives with enthusiasm.
A proven track record of strategic leadership, change management and community contribution.
An understanding of the Health Professions Act.
Search Process
The search process is led by a five-member subcommittee of the College's Council, the Registrar and CEO Selection Workgroup. Throughout this search, they are committed to ensuring no perception of bias, individual endorsement, favouritism, conflict of interest, or misinformation. Therefore, they have requested that no direct inquiries or resume submissions be made to the College's Council members and staff.
Inquiries and resume submissions must be directed to Rick Vogel at The Vogel Group at rick@thevogelgroup.ca.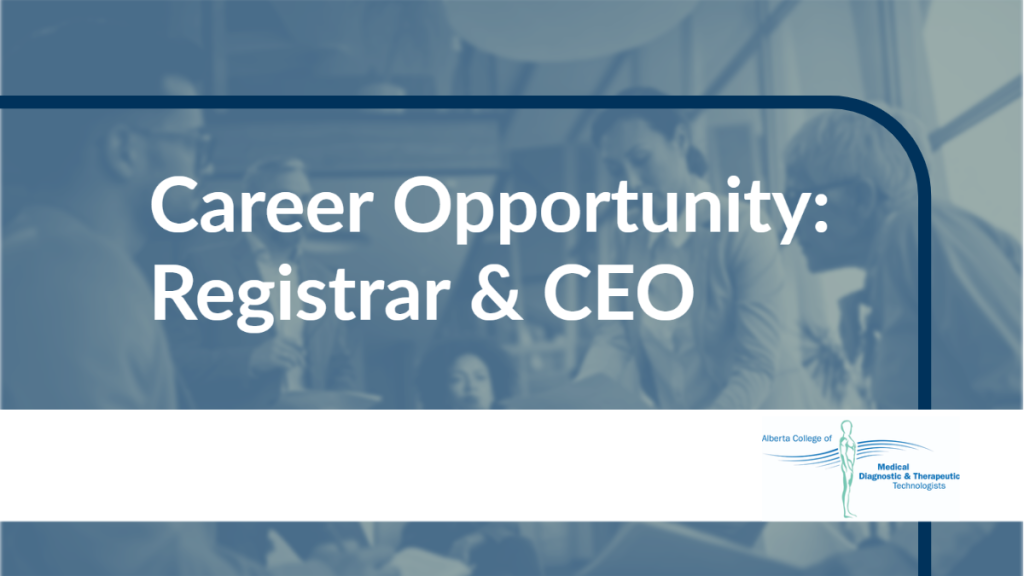 Career Opportunity: ACMDTT searches for Registrar & CEO