---
The Alberta College of Medical Diagnostic and Therapeutic Technologists (the College) and the Government of Alberta have approved amendments to the Medical Diagnostic and Therapeutic Technologists Profession Regulation (the Regulation) which comes into force on March 31, 2023.
The updates arise from Bill 46, the Health Statutes Amendment Act, 2020 (No. 2), which introduced a suite of amendments to the Health Professions Act (HPA). The College's response to Bill 46's initial amendments in 2021-2022 was to narrow our regulatory focus by reducing association-related activities, and this work has been completed.
Now, amendments coming into force on March 31, 2023, have moved some regulatory requirements out of the Regulation and into the Standards of Practice. None of these changes will impact registrants.
Until now, the frameworks for the College's Restricted Activities and Continuing Competence Program (CCP) were set out in the Regulation. On March 31, those frameworks will be removed from the Regulation and added to our Standards of Practice. The revised Standard 2.3 Restricted Activities and new Standard 6.0 Continuing Competence Program builds on the current Regulation and does not include any changes impacting registrants or their practice.
Restricted Activities
In response to Bill 46, the College reviewed and enhanced its current Standards of Practice to ensure clear restricted activity policy alignment. The following revisions were made, and Standard 2.0 now includes the following:
Standard 2.3: Restricted Activities
Standard 2.3.1: Performance of Restricted Activities
Standard 2.3.2: Supervision of Restricted Activities
Glossary term clarifications and additions to address restricted activity regulatory requirements.
Continuing Competence Program
The Continuing Competence Program (CCP) remains a government requirement. However, the CCP's move to the College's Standards allows for quicker and simpler program refinement through Council.
Standards of Practice
Due to the above changes, a revised Standards of Practice that points to the above individual documents has been developed.
Bylaws
Updates to legislation and regulation also made it necessary to update the College's Bylaws.
Coming Soon
More changes to the College's Standards of Practice are anticipated in May with the addition of a Standard of Practice specific to Female Genital Mutilation in compliance with Bill 10, the Health Professions (Protecting Women and Girls) Amendment Act, 2022.
Going forward, the College will incorporate these changes into the My CCP platform, the Learning Modules and Regulation Education Module, and other affected programs and documents.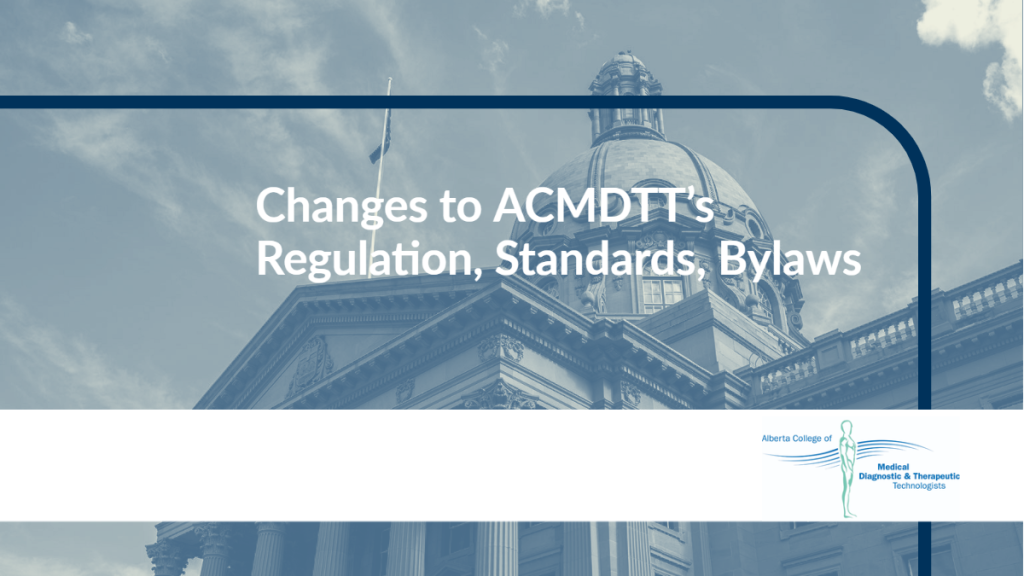 Changes to ACMDTT's Regulation, Standards, Bylaws